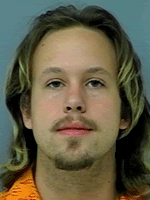 Community Affairs Officer Barbara Clifford of the St. Augustine Police Department reported to the local St. Augustine news desk that police have solved two burglaries that occurred in the downtown area.
Detective Michael Castaing arrested 21 year-old Alex Matthew Muse who is charged with the burglaries taking place at the Gourmet Hut located at 17 Cuna Street as well as the Crucial Coffee located at 26 Charlotte Street.
The burglaries occurred on Thursday, January 28th and Friday, January 29th and were reported by Historic City News in a story published February 2, 2010.
According to police, Muse entered Crucial Coffee by removing the padlock from the front door. Muse apparently used a key that he obtained when he was previously employed at the store. He pried open the floor safe and stole the deposit envelopes totaling $460, Clifford reported.
Muse is accused of stealing various types of meats, wraps, and sliced cheeses worth about $158 together with cash in the amount of $130; which was hidden inside the store.
While at Crucial Coffee, Muse is said to have taken spare keys to the Gourmet Hut and used them to gain entry to the second location that is owned by the same person. Muse stole money from the safe as well as cash hidden in the store, according to police.
At the time Police Officer David Tucker originally interviewed the owner of the stores, she believed the person committing the crimes had to be an ex-employee. The owner told police that only a few employees know where cash is hidden in the stores.
The owner named Muse as a possible suspect at the time of the break-ins; since he was an ex-employee who recently quit and had access to a spare key.
Detectives were able to obtain a search warrant for Muse's residence. At the time the warrant was served, police located keys belonging to both stores, food and spices which were taken from Crucial Coffee, rolled coins, dollar bills, and empty plastic containers of Sunny Seed Drops; also reported stolen from the store.
Police also found multiple marijuana plants, scales, marijuana grinder, and other drug paraphernalia.
After the search warrant was served and the defendant was given a Miranda warning, Muse admitted to burglarizing both stores and told police how he did it.
Muse was taken into custody and charged with two counts of burglary, two counts of grand theft, possession of marijuana; less than 20 grams, and possession of drug paraphernalia.
Share your thoughts with our readers >>