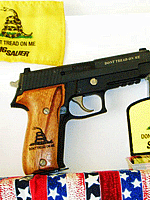 As a finale to The Tea Party Network's Saturday "Forward with the Constitution" rally, Historic City News has learned that organizers will conduct a raffle — including a drawing to win a commemorative, collectible Sig Sauer 9mm pistol with a Gadsden Flag (Don't Tread on Me).
The political rally will begin at 11:00 a.m. and continues until 3:00 p.m. and is being held at Francis Field in St. Augustine. 47 vendors have registered to participate as well as music and live broadcasting.
Historic City News readers are invited to bring your lawn chairs and your friends as they will not want to miss the candidates running for all the top positions in Florida including:
Marco Rubio (US Senator)
Pam Bondi (Florida Attorney General)
Rick Scott (Governor)
Jennifer Carrol (Lieutenant Governor)
Tickets for the raffle are $10 each and can be purchased from any sponsoring tea party table. The beautiful commemorative firearm has a $1100 – $1200 retail value.
The firearm itself will NOT be present at the event for obvious reasons, but there will be pictures.
Arrangements have been made for the lucky ticket holder to pick up this beautiful commemorative firearm at a licensed dealer. Just as any firearm purchase requires, the lucky ticket holder will need to fill out the ATF form 4473 and pass the usual federal background check in order to pick up the firearm from the licensed firearm dealer.
Share your thoughts with our readers >>