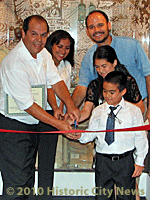 Archaeologist Raphael A. Cosme told Historic City News local reporters that he is proud to announce a new exhibit has opened featuring his private collection of Spanish colonial artifacts at the St Augustine History Museum.
The exhibit entitled "Treasures of Juan Ponce de Leon and Domestic Life in Spanish Colonial St. Augustine" held its ribbon cutting ceremony before a crowd of spectators, including Cosme and his family, last Wednesday, June 2nd.
Ed Swift IV, Director of Operations of Old Town Trolley Tours, presented Cosme with an award of recognition for his dedication to archaeology, for the discovery of Juan Ponce de Leon artifacts and for promoting and preserving Hispanic colonial folklore
Cosme has been researching and investigating Spanish colonial artifacts for the last 25 years. His finds include a comb carved out of bone, buttons, glass, coins dating from 1500 to 1630, cattle bones, and other inimitable pieces.
"What makes this exhibit truly fascinating," Cosme said, "is the fact that the site location of excavation could be the land boundary of Ponce de Leon's temporary wooden house, which was built between 1519 and 1521."
The St. Augustine History Museum, located at 167 San Marco Avenue, features a combination of historical displays and private collections that bring over 400 years of Florida history to life.
Cosme said that he is honored to have the opportunity to showcase his unique exhibit which is specifically intended to educate the general public on St. Augustine's rich Spanish history. "Now the treasures of Juan Ponce de Leon will be accessible for public viewing.
Photo credits: © 2010 Historic City News contributed photograph
Share your thoughts with our readers >>