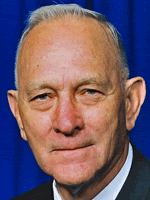 Alison Johnson, Campaign Manager for the Re-Elect Bill Proctor State Representative – District 20 campaign, told Historic City News reporters that former Speaker of the House Marco Rubio has endorsed Representative Proctor.
Proctor's district includes parts of St. Johns, Flagler and Clay counties.
"I am honored to endorse Representative Bill Proctor in his bid for re-election to the Florida House, District 20," Rubio said in a prepared statement. "He shares my conservative values, and he has been recognized as an outstanding leader in the Florida Legislature. His constituents are fortunate to be represented by a true conservative, whose professional experience and work ethic have earned the respect of his colleagues."
Proctor thanked Rubio for his support.
"I was privileged to serve during Speaker Rubio's term as Speaker of the House, and I know that he will be an outstanding member of the U.S. Senate," Proctor said. "I am honored to run for re-election with the support of one of Florida's most respected conservative leaders."
Proctor is chancellor at Flagler College and the former president of the college, a former chairman of the Board of Trustees of the Florida School for the Deaf and the Blind, and a former vice chairman of the Florida Education Standards Commission. Proctor has been honored by FSU with the Distinguished Educator Award and membership in the FSU Athletic Hall of Fame.
He is also a former chairman of the Council of Presidents of the Independent Colleges and Universities of Florida and of the Commission on State Relations of the National Association of Independent Colleges and Universities.
Share your thoughts with our readers >>