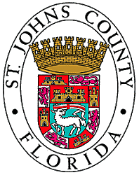 The St. Johns County Engineering Division notified Historic City News local reporters that they will host a public meeting on Thursday, May 20th from 5:00 p.m. to 7:00 p.m. at the Hastings Community Center located at 6195 South Main Street in Hastings regarding a proposed bridge replacement project on East St. Johns Avenue; east of Hastings.
County staff will present information about the proposed project. The public will be invited to provide input and feedback to staff members on the issue.
For more information, contact St. Johns County Project Engineer Nick M. Perpich at (904) 209-0136.
Share your thoughts with our readers >>