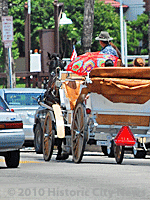 Assistant City Attorney Carlos Mendoza reported to local Historic City News reporters that, in one week, he will host an informational meeting on the proposed horse drawn carriage ordinance.
The meeting will be held in the Alcazar Room of St. Augustine's City Hall located at 75 King Street.
The public is invited to attend and provide input during the one-hour informational meeting to be held Monday, July 19th from 4:30 p.m. – 5:30 p.m.
Public questions and comments are encouraged.
Although this is not a meeting where any voting or final action will occur, note that one or more city commissioners may be in attendance.
Photo credits: © 2010 Historic City News photographer Kerry McGuire
Share your thoughts with our readers >>