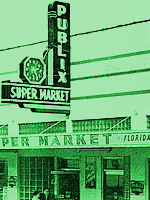 Historic City News reporters have learned that the Industrial Development Authority will be issuing $5.5 million in federal "Recovery Zone" facility bonds to assist in the financing of the new 28,000 sq. ft. Publix grocery store in the Vilano Town Center.
This news further supports recent reports that the final piece of property needed to begin construction was purchased for a reported $500,000.
"This is a unique opportunity to provide tax-exempt financing for a commercial project that will create approximately 80 new jobs," County Administrator Michael Wanchick told Historic City News.
County officials look for the Vilano Town Center project to stimulate local construction-related employment in our area and boost sales for suppliers.
Bob Bentz, representing the current developer of the project, Vilano Beach Town Center Partners LLC, told Historic City News that he hopes to demolish a few structures before the end of the year and begin construction in early 2011.
"The new Vilano Beach store is projected to open in the second quarter of 2012," said Publix spokesman Dwaine Stevens.
The federal bonds being issued are "private activity bonds" and are not an obligation of the County.
Share your thoughts with our readers >>