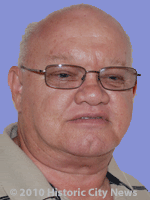 Dutcher Register, who has lived in the St. Augustine area all of his life, told local Historic City News reporters yesterday that he keeps up with the business of the City — how it works, and how it doesn't.
This is not the first run for a political seat for 57 year-old Register; he ran previously for School Board and twice before for a seat on the St. Johns County Board of Commissioners. He was not elected in those races, however, he thinks he could garner the 50% vote required to win Seat 5 on the St. Augustine City race in the August 24th Primary Election.
Register faces incumbent Nancy Sikes-Kline, after her first term in office, along with rival Charles Hennessey who also has his eye on Seat 5.
Because there are three or more candidates in the race, unless one candidate receives 50% of the votes cast in that contest, the two highest vote getters with face each other in a run-off during the General Election in November.
For the past 13 years, he has owned and operated "Register's Delivery Service". This week, Register and his wife has been busy moving in to his new residence on Sylvan Drive in the Fullerwood Subdivision.
"I have no vendettas," Register told Historic City News. "I not running looking for accolades — I want to be part of a team."
When asked what one issue motivated him most in his decision to run, Register said "The way the City wastes money is scandalous." Register was also very unhappy with the way he says the current commission "belittles people who come to the meetings to speak."
Register says, "I think I can give people a little more respect than the snickers they get from the back table now."
"It seems to me that when some people come in with an idea to do something, if they belong to the right group, it gets approved — if they don't is doesn't," Register said. "If it's worked in the past, they seem to think it will work now, but, in my mind, the City bank accounts aren't their personal piggy-banks."
Photo credit: © 2010 Historic City News staff photographer
Share your thoughts with our readers >>