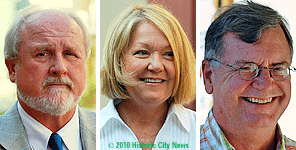 Historic City News readers may want to attend the St. Augustine City Commission meeting on Monday, December 6th when two returning commissioners and one freshman commissioner officially begin their terms in office.
Commissioner Nancy Sikes-Kline was reelected to a second four-year term in the August primary and Bill Leary was elected to a four-year term in the recent General Election.
Joe Boles was reelected to a third two-year term as Mayor.
All will be sworn in at the reorganization meeting scheduled for Monday, December 6th.
The terms of commissioners Errol Jones and Leanna Freeman expire in 2012.
Share your thoughts with our readers >>