Historic City News Editor Michael Gold was on hand last week when the Republican Club of Greater St. Augustine hosted the three announced Republican candidates for St. Johns County Commission, District 4, when each was given an opportunity to introduce themselves and answer questions from the Executive Board.
A special guest among special guests at the meeting was Staff Sergeant Mark Miner; home on two weeks leave from Camp Virginia in Kuwait. Miner, the St. Johns County Commissioner elected from District 3, and his new bride, Cheryl, took time to be with a room full of Republican supporters and well-wishers on Monday, June 14th. Miner led the Pledge of Allegiance at the commencement of the business meeting.
.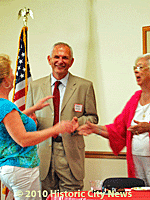 This is the second county candidate forum hosted by the local Republican Club and the first in the newly completed Special Events Building on the Northeast Florida Regional Airport at St. Augustine, located at 4730 Casa Cola Way.
Prior to the District 4 candidates, another guest, Republican Senator John Thrasher, updated the club members and attendees about the latest news from the state Republican Party, the status of several races of interest and some of his own dreams for the future — including, but not limited to, a winning Republican presidential candidate in 2012.
Thrasher's opponent in the August 24th Republican primary, Charles Perniciaro, also attended the meeting and addressed the members — only briefly mentioning Thrasher's backing of the controversial Senate Bill 6 and not mentioning at all the recent allegations from the Thrasher camp that Perniciaro is a "Democrat in Republican clothing" after it was learned that he only became a party member on April 30th.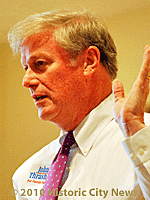 The forum, led by club president Gary Bruce, focused on the District 4 race for St. Johns County Commissioner. All candidates attended. The speakers were James E. Bryant, Vilano Beach; Joseph Alan Mayhew, Ponte Vedra Beach; and John (Jay) H. Morris, Ponte Vedra Beach.
In the introductory remarks, Morris pointed out that he "did not want to be a politician" and that he got into this contest initially because of his disapproval of the way Tom Manuel disgraced the office and later because of what he has learned about the way the county has been operated.
Morris says that his strong business background makes it easy for him to spot areas that can be improved in the way the county does business. Morris says that he has already offered to spend a day with the county administration showing them how they can cut the budget and taxes for next year, "but, they declined," he said with a laugh.
"The population of St. Johns County has increased by 38% in the past ten years," Morris said; referring to a poster-sized graph which he says was prepared by the county offices. "Spending in the same period has increased by 263%, and that's not acceptable."
Jim Bryant served as District 5 commissioner for 12 years from 1996 until 2008 and was Chairman, twice. He said, "I've served with 15 different commissioners — I've seen them come and go."
Most of Bryant's time was spent talking about many programs that he had been involved with during his three terms in office and how he hoped to foster the continuance of some of the significant ones that he feels may be unnecessarily cut because the current board does not understand their importance or how to finance them.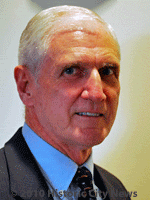 Bryant pointed out that he is a friend of the county library system, the Council on Aging "Meals on Wheels" program and "Sunshine Bus". Bryant has been in St. Johns County since 1972 when he began working as a pharmacist at Hays Pharmacy on Anastasia Boulevard. Bryant purchased the store in 1984 and sold it in 1997. Many of Bryant's programs deal with healthcare, public safety and quality of life.
Jobs were on the minds of all the candidates who spoke, including political newcomer, Joseph Alan Mayhew, who earns a living as a private financial advisor. Mayehw owned The Mortgage Store in Atlantic Beach for six years and says he has always been a self-employed entrepreneur. Mayhew is 26 years-old and is a graduate of the College of Business at Florida State University.
Mayhew says that he's not buying the idea that "local government can't bring in new jobs". Mayhew said that St. Johns County needs to "diversify the economy". In Mayhew's view, "The jobs in St. Johns County are too heavily connected to a small handful of industries." He went on to say, "In order to have a stronger, more resilient community, we need to encourage a multitude of industries to set up shop in our area."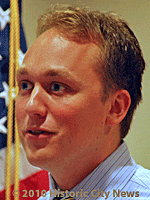 Mayhew also said that he's heard and understands why the kind of companies we want here won't come. "To say that St. Johns County is not business friendly is an understatement," Mayhew said. "Instead, we need to be business passionate."
Morris commented that we need to have a 30% commercial goal in the mix of residential and commercial. "We only have 10% and that won't generate enough jobs."
As everyone talked about what to do with the budget, Bruce posed the obvious question — you only have two real options, either decrease spending at a cost to our quality of life or raise taxes to pay for it. Each candidate was given time to elaborate on their approach to the problem.
Morris expanded on his assessment of the options saying, "You can continue organizational efficiencies, continue to reduce services, continue to borrow — although that is not currently an option, or you can continue to increase taxes and fees." Morris says that the answer lies in the county's ability to bring in new revenue by promoting wanted growth and development.
Bryant says we should "work better and more efficiently" creating what he says can be "increased services without increasing the budget". Bryant's solution relies strongly on making the county's dollars go further.
Mayhew's approach is to tap the volunteer resources that he says are underutilized in the county. Mayhew said he was shocked that in St. Johns County 1 in 4 children are going hungry; referring to a recent report on St. Johns County's school lunch program. He says that those families who are unemployed want to get back to work — not to get more welfare.
Mayhew says he wants to be known as "The Jobs Commissioner" and that he won't sleep until he's reached that goal.
Photo credit: © 2010 Historic City News staff photographer
Share your thoughts with our readers >>