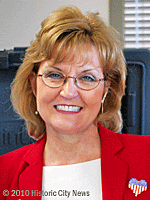 The St. Johns County Supervisor of Elections Office has announced to Historic City News on September 2, 2010, that they have concluded the Public Manual Audit of the official ballots cast during the August 24th Primary Election as required by section 101.591, Florida Statutes.
The public manual audit consisted of selecting at random one precinct to be manually audited. The results of precinct, absentee, early voting and provisional ballots were each checked for Precinct 208 for the Republican Attorney General race.
A total of 74 ballots were hand counted and compared against actual election results. Overall accuracy of the audit was 100%.
A report of the County's audit will be filed with the Division of Elections.
Penny Halyburton
Supervisor of Elections
St. Johns County, Florida
4455 Avenue A, Suite 101
St. Augustine, FL 32095
Photo credits: © 2010 Historic City News staff photographer
Share your thoughts with our readers >>