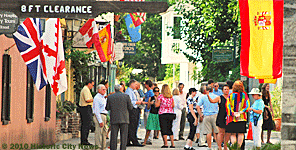 Worley Faver invited local Historic City News readers to participate in Fiesta de Avilés — a ceremony to celebrate the completion of the restoration of the oldest street in the oldest city.
The Avilés Street Project celebrates with a ribbon cutting and block party taking place "At the Arch," on Friday, October 1st, beginning at 4:00 p.m.
Members of the St. Augustine City Commission, local dignitaries and Avilés Street merchants will be attending according to Faver's invitation.
Immediately following the ribbon cutting, the celebration will begin with the first annual "Running of the Bulls" and a block party hosted by the businesses of Avilés Street.
The festivities will continue throughout the evening and both Saturday and Sunday.
The activities will be in conjunction with the First Friday Art Walk with the theme breast cancer awareness.
Other events continuing throughout the weekend include live music by Bert and the Skinny Lizards performing Saturday, October 2, from 4 to 9 p.m. and numerous galleries hosting a "Sangria Sunday" from 2 to 5 p.m. Sunday.
Parking is free after 5:00 p.m. Friday and Saturday — and all day Sunday.
Photo credits: © 2010 Historic City News staff photographer
Share your thoughts with our readers >>