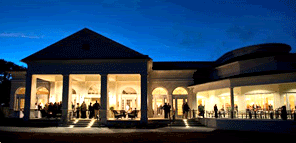 Susan Johnson, COA Communications Coordinator, reported to the St. Augustine local news desk that the community gathering center, River House, celebrated its grand opening on Saturday, January 23rd.
River House, located at 179 Marine Street near the Council on Aging, enjoyed an attendance of approximately 500 guests for the grand opening event.
The highlight of the evening was the unveiling of a portrait of St. Augustine resident Mary Peck who bequeathed the 'seed money' for the construction of River House. Local artist Jean Troemmel, who created the painting, and Bishop Galleone presented the portrait to the crowd.
St. Augustine City Mayor and COA Board President Joe Boles served as Master of Ceremonies for the event. He and COA Executive Director Cathy Brown addressed the gathering explaining that the River House grand opening was the culmination of a community dream. Brown also thanked all those involved in the project for their dedication, commitment and willingness to design and create a "very big dream on a very small budget."
River House offers a café with indoor or terrace dining and serves as a venue for special events and celebratory occasions. A speaker series in partnership with the University of Florida, Gainesville is currently in the works and a wide variety of on-going classes are scheduled daily.
Those who missed Saturday's event are invited to attend the River House Communi-TEA on Sunday, January 31st from 2-4 pm.
For additional information, please call (904) 209-3700.
Photo credit: © 2010 Historic City News photo contributed by David Macri
Share your thoughts with our readers >>