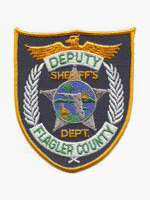 Flagler County Sheriff's Office Public Information Officer Debra Johnson reported to local news reporters that deputies were on the scene of an armed robbery and kidnapping that occurred around 11:10 a.m. at Christian Nursery and Landscaping on Bimini Lane in West Flagler County.
One victim told deputies at the scene that he was tied up for at least half an hour before freeing himself to call the Sheriff's Office.
Another man, 24 years-old, who was also at the nursery, was apparently kidnapped by the robber and forced into a 2003 Red Kia bearing license plate 5927GG. The robber fled the scene.
The suspect and the apparent victim have been located by Lake County Sheriff's deputies who stopped the suspect vehicle on County Road 42 and State Road 19 in Altoona.
No one is reported as injured in the incident at this time and additional information will be released as it becomes available.
Anyone who may have additional information concerning this incident is asked to contact the Flagler County Sheriff's Office at (386) 313-4911.
Share your thoughts with our readers >>