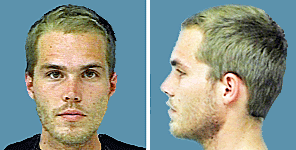 26 year-old Joseph Dean Roberts is still being aggressively sought by the U.S. Marshal Service nationwide and police are saying he should be considered dangerous.
Roberts is a person of interest in connection with the disappearance of 45 year-old Brittany Jeniveve Tavar and the subject of active arrest warrants for grand theft and unlawful flight to avoid prosecution.
Tavar was last seen pumping gas on the evening of July 6th at a Coastal Highway gas station.
Crime Scene Technicians at Tavar's home collected evidence that was sent to the Florida Department of Law Enforcement lab in Jacksonville for forensic analysis. Preliminary DNA testing performed by FDLE on the evidence confirmed the presence of human blood originating from a female.
The location of the blood, along with the circumstances of Brittany Tavar's disappearance, suggests she was a victim of foul play.
Tavar owned two Bichon Frises — Ku Bear and Huey. They were discovered on the weekend of July 8th in a rural area outside of Columbia, South Carolina. The dog's collars had been removed in what police say was an attempt to prevent or hamper their identification. The pets were taken to a local veterinary practice in Hopkins, South Carolina, where they were identified by an embedded microchip.
Roberts was last observed at a Wal-Mart in Ontario, Oregon on the afternoon of July 11th. He was observed purchasing a tent, a vintage styled black t-shirt and tan cargo shorts.
The family of Brittany Tavar has offered a $25,000 reward for information leading to Roberts' arrest. Anyone with any information related to this investigation is asked to contact Detectives George Harrigan or Charles Brantley at (904) 824-8304, or by email at crimetips@sjso.org, or by CrimeStoppers of N.E. Florida at 1-888-277-TIPS (8477).
Share your thoughts with our readers >>