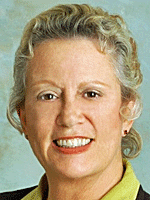 After completing eleven years of service to the City of St. Augustine, City Clerk Karen Rogers announced her intention to retire during the last City Commission meeting two weeks ago.
For the past four years, Rogers has held her commission-appointed position; one of only three direct appointments made by the elected members of the City Commission. Rogers will retire effective July 20th.
City Manager John Regan, also an appointee, will discuss the process for selecting a new city clerk with commissioners at their regular meeting this Monday night at 5:00 p.m. in the Alcazar Room of City Hall.
Rogers' position comes with vast responsibilities since she is the official custodian of records for this 13,663 resident city.
By successful completion of 100 hours of approved academy training through The John Scott Dailey Florida Institute of Government, Rogers earned the professional designation Certified Municipal Clerk.
Florida has a total of 343 Certified Municipal Clerks, according to The Florida Association of City Clerks — of which Rogers is a member.
Share your thoughts with our readers >>