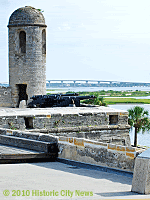 Plans that originally called for a 10,000 square foot Castillo Orientation Center in the Colonial Spanish Quarter could be expanded to a 15,000 or 20,000 square foot, two story "world class interpretive experience" in a partnership being discussed between the city and University of Florida.
"The objective for the new Interpretive Center is to introduce visitors to the rich layered history of St. Augustine, utilizing the scholarship of UF to tell the civilian story and the military story of the National Park Service' Castillo de San Marcos," according to the university's strategic plan, presented in January, of last year.
"Through the use of media, interactive displays (computer and low tech), authentic objects, immersive environments, and rich interpretation, the history of St. Augustine through time will be brought to life."
The plan suggests the St. George Street entrance to the center might be through the existing Peso de Burgo buildings or relocating those buildings and building a courtyard wall entry. It's one of three envisioned access points. The others are from the bayfront and through the Spanish Quarter on north St. George Street.
The National Park Service earlier estimated the cost for its center at $4 million. The larger UF plan estimates $10 million.
"The Visitor Orientation Center is designed specifically as an interpretive center for the Castillo and the Colonial Spanish Quarter," according to City Heritage Tourism Director Dana Ste. Claire in a quote that appeared in today's St. Augustine Report. "It will interpret military and civilian life in the 18th century and direct tourists and school groups to either the fort or the Spanish Quarter."
Now that issues seem to be resolved involving the transfer of city and state property to the National Park Service on which the Visitor Orientation Center could be built, it was reported that Congressman John Mica is seeking construction funds for the center in this session of Congress.
$500,000 in federal funds are said to have already been secured to complete the center's design.
In another matter, at their last meeting, the St. Augustine City Commission approved the expenditure of $20,000 for a consultant to develop a business model to sustain the $2 million expansion of the city-owned Visitor Information Center. Ste. Claire said, "The Visitor Information Center's primary mission and function is to organize the visitor experience via information, maps, parking, directions, etc. It is a comprehensive center for visitors to start their St. Augustine experience."
The existing Visitor Information Center, and the proposed Visitor Orientation Center, serves two different functions — even though the names are confusingly similar. The existing center is, as described, a "comprehensive, citywide" information center, whereas, the proposed orientation center, if constructed, will be a very, focused federal project of the National Park Service and will be a center to interpret the history of the Castillo and its relationship to the Spanish Quarter.
Photo credits: © 2010 Historic City News staff photographer
Share your thoughts with our readers >>