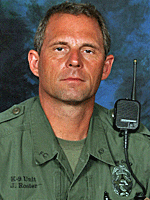 Public Information Officer Debra Johnson told local St. Johns County reporters with Historic City News that Corporal Jamie Roster has been named the Flagler County Sheriff's Office "Law Enforcement Officer of the Year".
The announcement came during the recent annual awards banquet that recognized several outstanding members of Flagler County's largest law enforcement agency. The St. Johns County Sheriff's Office will hold its awards banquet tomorrow night.
Corporal Roster was presented with the "Deputy George Durrance Law Enforcement Officer of the Year Award" named in honor of the fallen deputy who was killed in the line of duty on August 25, 1927.
In presenting the award, Cpl. Roster was recognized for his individual excellence, teamwork and professional service in many facets of the agency. He is a nine year veteran of the Sheriff's Office, having started with the agency in 2001. Roster is a member of the K-9 Unit and has been a member of the Special Weapons and Tactics team since 2005.
Other members recognized by Flagler County Sheriff Donald W. Fleming at the event included Deputy Richard Weber; who received the "Sheriff Hugh Drummond Corrections Deputy of the Year Award" for his work in the Flagler County Inmate Facility. Deputy Weber was described as a person with a "Let's do it" attitude who is self-motivated. He was recognized for demonstrating an excellent work ethic and promoting teamwork. Weber joined the FCSO in 2006.
Two civilian employees shared the "Sheriff Perry Hall Employee of the Year award." Nancy Birdsong and Peggy Mrus were chosen for their ability to deal with a multitude of outside agencies and the public in a professional manner. Both employees work in the Sheriff's Civil Judicial Process Division. Mrus has been with the Sheriff's Office since 1994 and Birdsong joined the agency in 1998.
In the Communications Division, Christina Zinzi was presented with the "Sheriff H. William Brooks Tele-Communicator of the Year Award." The award was presented for her ability to remain calm and professional in a crisis situation. She has been with the FCSO Communications Division since 2008.
Share your thoughts with our readers >>