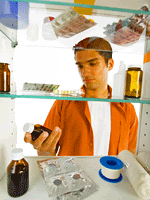 Historic City News local St. Johns County news reporters received word from Sheriff's Office Media Relations Officer Kevin Kelshaw that the first "Operation-Medicine Cabinet" is scheduled for later this month.
Operation Medicine Cabinet is a pharmaceutical take-back program; a prescription for safe kids and a clean environment.
When old medications are kept in your home, it increases the chance for illegal use and theft. But, the question remains, how to get rid of expired or old medication? You don't want to flush them, because that would send them into our water system which could contaminate our water supply as well as our drinking water.
Disposing of your unused or expired prescriptions and medications properly is extremely important.
During Operation Medicine Cabinet, you can bring your unwanted, expired or unneeded medications to this pharmaceutical collection event and they will be disposed of free of charge.
Operation Medicine Cabinet will take place on Saturday, March 20th, 2010 between 10:00 a.m. and 2:00 p.m. in the front parking lot of the Ponce de Leon Mall, 2121 U.S. 1 South.
You can bring the medications in any container including sandwich baggies and, if brought in the original container, that container will be returned. Items that will not be accepted are Sharps, Medical Wastes or thermometers.
For additional information please contact Deputy Diana Bryant, Crime Prevention at the St. Johns County Sheriff's Office at (904) 810-6694.
Share your thoughts with our readers >>