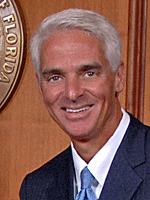 Local reporters at Historic City News learned that Governor Charlie Crist signed House Bill 483 today, the Back to School Sales Tax Holiday, at a Target store in the Waterford Lakes Town Center in Orlando.
This bill designates a three day sales-tax holiday from August 13 through 15, 2010, on school supplies, books, clothing, and footwear. The tax holiday is expected to save Florida families $26 million.
"Our children deserve to have the resources and materials they need to be successful and competitive in the classroom. I am confident this tax break will help students, families and businesses as they prepare for a new school year," said Governor Crist. "It is important that we continue to alleviate the tax burden on Floridians, as well as seek ways to improve the economic future of our state."
During the sales tax holiday, Floridians will not pay sales tax on books, clothing and footwear that cost $50 or less, as well as school supplies that cost $10 or less. In January 2010, the Governor presented the Back to School Sales Tax Holiday to the Legislature as part of his policy and budget recommendations for the 2010-11 Fiscal Year.
"This tax break will enable Florida families to buy school supplies and clothing for the school year without the additional cost burden of state and local taxes," said Sally West, director of government affairs for the Florida Retail Federation. "The tax holiday will also provide a much needed boost to Florida's economy. We are thankful to Governor Crist for his longtime, enthusiastic support of this tax break."
At the signing ceremony, Governor Crist was joined by bill sponsor Senator Mike Fasano, Senate Finance and Tax Chairman Thad Altman, and leadership of the Florida Retail Federation.
Share your thoughts with our readers >>