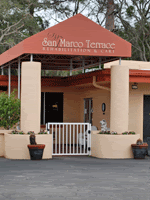 Community Relations Director Donnie Taylor reported to the local St. Augustine news desk at Historic City News that San Marco Terrace has achieved a five-star rating from the Centers for Medicare & Medicaid Services.
The Centers for Medicare & Medicaid Services is a division of the U.S. Department of Health and Human Services and is the government agency that ranks similar local nursing facilities.
San Marco Terrace Rehabilitation and Care is now ranked in the top 10% of all nursing facilities in the country. San Marco Terrace is the only local nursing facility to achieve
"We are very excited about receiving the government's top rating again," said Doug Hernandez, Administrator of San Marco Terrace. "We just keep asking for excellence from our staff and they come through. Compassionate care is given by all our staff, from our nurses to our rehabilitation staff to our housekeepers. We always treat our residents like family here and I believe that we will continue to earn the Department's highest rating of five stars because of it."
The Five-Star Quality Rating System was created to help consumers, their families, and caregivers to easily compare prospective nursing facilities and to help identify areas about which they may want to ask questions.
This rating system has three components: health inspection, quality measures, and staffing. The "health inspection" score is based on the week long assessment the Florida Agency for Healthcare Administration performs each year at every facility in the state. The "quality measures" score is based on 10 Quality Measures monitored by Centers for Medicare & Medicaid Services. The "staffing" score is based on the amount of nursing hours per resident.
For more details and to check the score of any nursing facility in the country go to www.cms.hhs.gov/nhcompare.
Senior Care Group, Inc., owner of San Marco Terrace, is a not-for-profit corporation which is dedicated to providing rehabilitation, health care, and housing for the elderly and infirm.
Photo credit: © 2010 Historic City News photographer Kerry McGuire
Share your thoughts with our readers >>