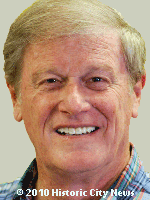 By 1:00 p.m. this afternoon, some of our area's best known Republican leaders, elected officials, members of the county's local Republican clubs, as well as residents who wanted to meet the candidates that may soon represent them, converged for the Grand Opening of the office of the St. Johns County Republican Party.
The ceremonies were opened with an invocation lead by David Reichenberg and the singing of the National Anthem.
From that point forward, it was a good old fashioned St. Johns County cookout — hand shaking, storytelling, and a chance to "catch up" with friends and neighbors, to mingle with dignitaries, and to try to figure out which politician is worthy of your vote.
Florida GOP Chairman, John Thrasher, gave the first political speech — both from the perspective of the State Republican Party and as a candidate for re-election for Florida Senate District 8.
"It is a busy day in District 8." Thrasher told Historic City News editor Michael Gold. "Today I started visiting with folks at the Florida Federation of Young Republicans in Clay County, I have the chance to be with you folks here at the St. Johns County Republican Party, and then I'm off to the Nassau County Republican Executive Group."
Senator Thrasher, accompanied by his wife Jean, was not the only state legislator on hand today. Because of term limits, this will be the last run for District 20 Representative Bill Proctor who was also on hand for the festivities; as was District 19 Representative Mike Weinstein from Jacksonville.
St. Johns County elected Republican officials including State Attorney R.J. Larizza, County Commissioner Ron Sanchez and Clerk of Court Cheryl Strickland, participated in today's Grand Opening.
Officers of the St. Johns County Republican Party who were hosting the ceremonies include Harlan Mason, Chairman; Cheryl Robitzsch, First Vice Chairman; Brian Iannucci, Second Vice Chairman; Eric West, Recording Secretary; Cheryl Howell, Corresponding Secretary; Robert Veit, Treasurer, and Reau Estes, Member-at-Large.
Members of the Republican Club of Greater St. Augustine were also in attendance, as was St. Johns County Young Republicans President Roy Alaimo.
Photo credits: © 2010 Historic City News staff photographer
Share your thoughts with our readers >>