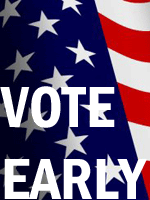 A reminder for Historic City News readers that early voting for the General Election ends tomorrow, Saturday, October 30th.
"Voters may go to ANY early voting location in St. Johns County," according to Assistant Supervisor Vicky Oakes. "Ballots may be cast between 8:30 A.M. and 4:30 P.M. at all locations tomorrow."
Polling locations open for early voting include:
Supervisor of Elections Main Office
Southeast Branch Library
St. Augustine Beach City Hall
Julington Creek Annex/County Service Center
Ponte Vedra Library
Hastings Town Hall
"If you do not have proper ID, you must vote a provisional ballot," Oakes cautioned, so, be certain to take current and valid photo and signature ID with you when you go to the polls.
In order for your absentee ballot to be counted, it must be returned to the Supervisor of Elections Office by 7:00 P.M. on Election Day.
Election Day polling locations are listed on your voter information card or check the precinct locator on the Supervisor's website.
"If you miss early voting, please be sure to VOTE on Election Day, Tuesday, November 2nd," Oakes said. "Tuesday voting must be done at the polling place for your assigned precinct. Polls are open 7:00 a.m. until 7:00 p.m."
The Supervisor of Elections Office is located at 4455 Avenue A, Suite 101 in St. Augustine, and can be reached by calling (904) 823-2238 or on the Internet at http://sjcvotes.us
Share your thoughts with our readers >>