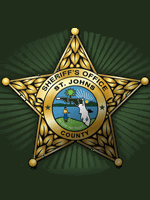 The Police Athletic League and the St. Johns County Sheriff's Office have notified local Historic City News crime patrol reporters that a tip has been received that would indicate a possible scam using their name.
In past years, the Police Athletic League received some funds through sponsorships of an annual calendar. This year they elected to raise money a different way and, according to Sheriff's spokesman Kevin Kelshaw, "They are not participating in the calendar fund raiser."
Several past sponsors have contacted the Police Athletic League after they received solicitation calls this year inquiring about a future calendar sponsorship.
Historic City News Editor, Michael Gold, whose family operates JR Uniform Company, says he, too, has received such telephone calls. "We primarily sell uniforms for police and first responders — for a number of years have contributed to Sheriff's Explorer Post 911 and the Police Athletic League, and that included buying the calendar ads."
Gold says his store, which was established here in 1926, has bought "a ton of ads" over the years — in everything from High School football programs to fireman's charities and the Florida Sheriff's Association Youth Ranch. "I suppose we're on the quick-call list of every charity you can think of, but, this year, due to government spending cuts, we have been forced to cut back on such items."
Kelshaw warned that neither entity is receiving funds from advertising sold in this year's calendars and that the Sheriff's Office has received information that some unethical companies are impersonating that they are.
If you are in doubt about money you have given to any calendar company representing the Historic St. Johns County Police Athletic League this year, you can verify whether or not they are legitimate by calling (904) 829-9438.
Share your thoughts with our readers >>