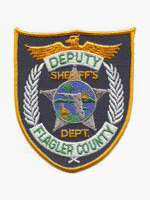 Public Information Officer Debra Johnson told local St. Johns County reporters with Historic City News that a widow reported receiving a telephone call from someone who claimed her recently deceased husband had won $500,000.
Apparently, the Flagler County hoax relied on information the con artists received from obituaries published in the newspaper. In St. Johns County, the Sheriff recently removed a page from his website that contained basic details about persons arrested and charged with crimes; when it was thought that a similar scam was feeding off that information.
In Flagler County, the widow recognized the phone call as a possible fraud and wisely hung up on the caller.
The man then called later in the day and again claimed to be notifying the potential victim of her late husband's winnings. She hung up a second time and contacted the Flagler County Sheriff's Office.
Deputies called the number given to them by the widow. The man answered and when deputies asked him for the name of the company, he hung up. Deputies called back and told the man that he needed to cease contacting the victim.
"Residents are reminded not to share any personal information with anyone over the telephone. If you are suspicious about any calls, contact us and let us help you avoid becoming a victim of these scammers," said Flagler County Sheriff Donald W. Fleming.
Anyone with information on either of these incidents is asked to contact the Flagler County Sheriff's Office at (386) 313-4911 or Crimestoppers at 1-888-277-TIPS (8477).
Share your thoughts with our readers >>