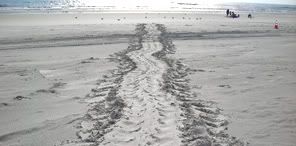 Sea turtle nesting season has resulted in 766 sea turtle nests — a 230% increase over last year's count; so the St. Johns County Habitat Conservation Program is asking Historic City News readers for their help in this year's sea turtle wash-back program.
"With such a large number of sea turtle nests, it is imperative that there are enough volunteers to help the sea turtles," said Jade Dupuis in the St. Johns County Parks and Recreation division.
Volunteers survey the wrack line for wash-backs then transport the sea turtles to a rehabilitation facility in Volusia County. The wrack line may form at any time, and the volunteers are placed on call and contacted when it is time to complete a survey.
Each volunteer is equipped with a volunteer t-shirt, gloves, data sheets, towels, buckets for carrying the wash-backs, and water. Children under the age of 18 must be accompanied by an adult.
If you are interested in volunteering, please attend the next workshop on September 1st, 2010. Pre-registration is required as space is limited. The volunteer training will last for approximately one hour.
Training Workshop
Wednesday, September 1st, 2010, 5:00 – 6:30 pm
St. Johns County Administration Auditorium
500 San Sebastian View, St. Augustine, FL 32086
For more information on how to register, contact Jade Dupuis at (904) 209-0619.
Photo credits: © 2010 Historic City News staff photographer
Share your thoughts with our readers >>