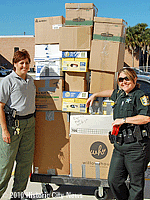 St. Johns County Sheriff's Office Crime Prevention Corporal Diana Bryant reported to Historic City News that over 300 pounds of expired or unwanted medication was collected at the second Operation Medicine Cabinet in St. Augustine on Saturday.
Bryant and Deputy Melissa Underwood participated in the operation which allowed residents to turn over medications for proper disposal by the Sheriff's Office. The event was held in the parking lot at Flagler Hospital Imaging Center.
"These collections serve two purposes," Bryant said. "One is to dispose of medications properly, by not contaminating landfills or water supplies, and, the second is to make sure that medication does not get into the hands of children or finds its way to the streets."
The collected medication will be destroyed by incineration.
The first Operation Medicine Cabinet was held in March at the Ponce de Leon Mall parking lot where about 140 pounds of medications were turned in and destroyed. Subsequent operations took place in Ponte Vedra and Julington Creek earlier this year. So far in 2010, a total of nearly 500 pounds of medications have been turned in and destroyed in St. Johns County.
Photo credits: © 2010 Historic City News contributed photograph by SJSO
Share your thoughts with our readers >>