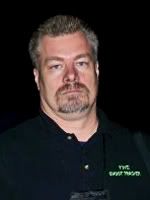 Bruce Hutchinson, the executive producer of Orlando-based Ghost Tracker TV, reported to the St. Augustine local news desk that his crew has "set up shop" at the Spanish Military Hospital located at 3 Aviles Street today; hoping to connect with the long-lost souls of soldiers.
Pia M. Hogue told Historic City News that Ghost Tracker TV is a localized version of the Syfy network show "Ghost Hunters". Ghost Tracker TV airs in central Florida in the 2:00 a.m. Saturday time slot.
The local station, channel 4 WJXT, will air this broadcast; the film crew began arriving at 1:00 p.m. and will be working at the site until approximately 4:00 a.m.
Hutchinson, who heads up BH Extreme Paranormal Society, is part of a group of fairly ordinary people moonlighting to understand seemingly unexplainable disturbances.
The Ghost Tracker TV program follows real-life paranormal investigators as they explore hauntings throughout the United States.
There have been many accounts of souls of lost soldiers among the premises", Hogue told Historic City News. "Filming on location at the Spanish Military Hospital Museum before, investigators have had conversations with one 15 year old soldier, and experienced a very heavy bed lifting off the floor."
Coming back, investigators hope to encounter these entities and experience them yet again, or come across some new evidence in their research and hope to help these poor lingering souls to cross over.
Share your thoughts with our readers >>