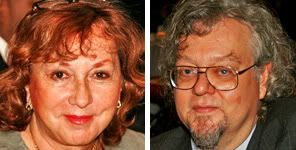 Two very outspoken and relative newcomers to St. Augustine are back in the news again — this time because they have tried to intervene in the federal bankruptcy proceedings of Morris Publishing Group and one of its newspapers, The St. Augustine Record.
U.S. Bankruptcy Court Judge John S. Dalis was asked to rule on the merits of a motion filed by Lincolnville activist and failed city commission candidate Judith Seraphin and the "Chief Information Officer" of Seraphin's Riberia Street business; the disbarred lawyer, Edward A. Slavin, Jr.
Seraphin and Slavin wanted the court to hold off on confirmation of the newspaper publisher's prepackaged bankruptcy plan — arguing that the declining quality of the St. Augustine Record was the direct result of Morris family mismanagement.
The prepackaged plan of bankruptcy includes a statement that reorganization of Morris Publishing Group would bring "no change" in the company's day-to-day operations. That, Seraphin and Slavin say, means Morris will not improve its papers, specifically referring to the St. Augustine Record.
Seraphin and Slavin consider themselves "community activists" and have been driven, from time to time, to suspect that the St. Augustine Record does not operate to protect the public interest; in part because The Record is reluctant to engage in zealous investigation of the local government to the extent necessary to satisfy Seraphin and Slavin.
Judge Dalis detailed his decision in a 13-page ruling released Thursday. In essence, Dalis' opinion was, nice try — but you two have no standing in terms of economic or legal interest.
Normally, the only parties who object to a bankruptcy plan are creditors.
Judge Dalis said the quixotic pair had no standing to object as "parties of interest" because they have no economic interests at stake, nor did they show there was a reason to be concerned a Morris bankruptcy would set a bad precedent.
"Further, they do not have standing to object on behalf of the debtor's bondholders, and they have not alleged, much less shown, cause why they should be allowed to intervene," he wrote.
Judge Dalis noted in his ruling that, with Seraphin and Slavin officially out of the case, there were no objectors to the prepackaged plan, making it virtually certain that Morris will emerge from Chapter 11 after a confirmation hearing February 17th.
Photo credit: © 2009 Historic City News contributed photographs
Share your thoughts with our readers >>