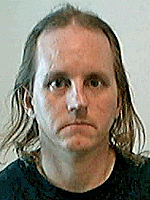 In accordance with Florida State Statute 775.21, this news release will serve as public notification that the St. Johns County Sheriff's Office has been given information that a person judged to be a sexual predator is now residing within St. Johns County.
The name of the sexual predator is Robert Richard Sanzone.
He will be residing at 208 Anastasia Blvd., Room #1.
Sanzone is a white male, 34 years old, 5'5" tall, 155 pounds, has strawberry blonde hair and blue eyes.
Sanzone was adjudicated guilty of 2nd degree rape in the state of New York in 1996. He was also charged with lewd or lascivious molestation of a victim under the age of 12 as well as lewd or lascivious battery of a victim between the ages of 12-15.
He was sentenced to five years in prison in September 2004 followed by two years of community control.
At the present time he is serving five years probation and is registered as a Sexual Predator pursuant to Section 775.21 F.S.
The public can also access information about all sexual predators in the state via the Internet, where the FDLE has a website. The address of the website is www.fdle.state.fl.us. Information is also available via a toll-free number to FDLE: 1-888-FLPREDATOR.
Share your thoughts with our readers >>