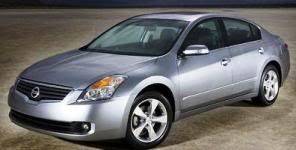 St. Johns County local news reporters learned that Mike Shad Nissan, on Cassat Avenue in Jacksonville, has donated a 2009 Nissan Altima to benefit the Betty Griffin House.
The new car, complete with new car smell, is being raffled off by the emergency shelter for just $10 per ticket.
Community Awareness Coordinator Kim Collins reported to Historic City News that 1,514 chances have already been sold — there are 1,986 still available.
You can purchase your tickets for a chance to win at either Betty Griffin House Thrift Shoppe:
616 SR. 13 North, St. Johns Plaza
St. Johns, FL.
1/2 mile south of Racetrack Rd.
904-230-5435
OR
1961 A1A South, Anastasia Square
St. Augustine, FL
904-471-4716
Betty Griffin House is a private, nonprofit agency providing emergency shelter to abused women, men, and their minor children. Other support services available to shelter residents and non residents include a 24-hour crisis hotline, individual and group counseling, forensic and medical rape exams, and legal assistance. Confidential individual and group counseling is available in all parts of St. Johns County including, Hastings, Ponte Vedra Beach, St. Johns, St. Augustine and St. Augustine Beach.
Terms and Conditions – As a ticket holder, I understand and agree to the following Terms and Conditions of the Betty Griffin House Raffle agreement set forth herein:
•This ticket represents a chance to win the opportunity to accept an offer of the stated prize on the terms and conditions set forth below.
•The winner of the 2009 Nissan Altima agrees to accept the car (prize), without alteration or additions, and the prize winner agrees to accept the prize "as is", with absolutely no express or implied warranties given by Betty Griffin House, or Mike Shad Nissan of Jacksonville.
•The winner will be notified by telephone or mail. The winner will have seven (7) days from the date of notification to accept the car (prize) by executing and returning the call or mail pursuant to the terms stated herein. Failure to execute and return the call or mail and accept the car within a time period of seven (7) days, and pursuant to the terms stated there in will automatically result in forfeiture of the car (prize), with no substitution or alternative prize. The prize will then be awarded to the second runner-up, or to such runner-up that accepts the said car (prize) pursuant to all stipulated terms and conditions.
•Prize (car) may not be substituted or exchanged or redeemed for cash value.
•The $10 ticket price is NOT deductible for Federal or State income tax purposes. All sales are final and non-refundable.
•Participants must be 18 years or older.
•The winner is subject to applicable Federal and State income taxes, tag, title, due and payable at time of delivery.
•The winner need not be present at the drawing. Void where prohibited by law.
•Proceeds will benefit the Betty Griffin House.
Share your thoughts with our readers >>