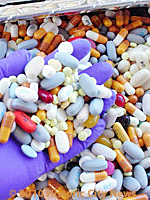 The St. Johns County Sheriff's Office told local Historic City News reporters that they are hosting their second and third "Operation-Medicine Cabinet" next weekend in the northern sections of the county.
This is a Pharmaceutical Take Back program, a prescription for safe kids and a clean environment.
The operations will take place on Friday, June 25th, from 5:00 p.m. until 8:00 p.m., at the Julington Creek County Annex Parking Lot, 725 Flora Branch Blvd., and on Saturday, June 26th, from 9:00 a.m. until 12:00 p.m., at the Ponte Vedra County Annex Parking Lot, 5430 Palm Valley Rd.
When old medications are kept in your house it increases the chance for illegal use and theft. But the question remains on how to get rid of expired or old medication? You don't want to flush them, because that would send them into our water system which could contaminate our water supply as well as our drinking water.
Three months ago, the Sheriff's Office conducted its first Operation Medicine Cabinet at the Ponce de Leon Mall. Over 60 pounds of pills and more than 85 pounds of other miscellaneous medications were turned in to destroy.
Disposing of your unused or expired prescriptions and medications properly is extremely important.
So bring your unwanted or unneeded medications to this free collection event and they will be disposed of free of charge.
Please bring the medications in their original container. Items that will NOT be accepted are Sharps, Medical Wastes, nuclear medications or thermometers.
For additional information please contact Deputy Diana Bryant, Crime Prevention at the St. Johns County Sheriff's Office at (904) 810-6694.
Photo credit: © 2010 Historic City News SJSO contributed photograph
Share your thoughts with our readers >>