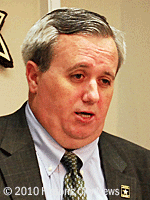 Historic City News editor Michael Gold spoke to Sheriff David B. Shoar this afternoon to get an update on the double homicide that occurred this morning in what is normally a quiet St. Augustine South neighborhood.
E-911 operators received a call from a witness around 9:30 a.m. that there had been a shooting into a vehicle in the 200 block of Queen Road. The vehicle was said to appear to have run off the road.
"We discovered two men who appeared to have died by gunshot," Shoar told Historic City News; but, before the first responding deputies arrived on the scene, all of the shooting was already over.
"A witness observed a man run into the rear of a nearby residence after the first shot was heard," according to Shoar. "That witness heard a gunshot from inside the residence."
"We now know Harry Lee Brano is the man believed to be the first shooting victim," Shoar said. "Mr. Brano was only two weeks away from his 72nd birthday." Brano was found dead inside his vehicle on Queen Road in the area of Martin Road.
Based on statements collected from witnesses, Shoar believes that 47 year-old Francisco Gutierrez shot Brano, then ran into his residence at 207 Queen Road and shot himself. Shoar said, "Everyone involved has been accounted for — the neighborhood is once again safe and secure."
Brano lived at the same address as Gutierrez, however, according to Shoar, "They were not related." Shoar is not offering any explanation on what might have set Gutierrez off or otherwise triggered the shooting this morning, saying, "There are still a lot of questions that have to be answered."
Crime Scene Technicians responded to process the scene and homicide detectives are continuing the investigation. The bodies have been transported to the District 7 Medical Examiner's Office for further examination and autopsy.
Photo credits: © 2010 Historic City News staff photographer
Share your thoughts with our readers >>