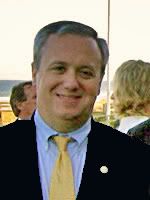 St. Johns County Sheriff David Shoar confirmed with local Historic City News reporters that he will address the Republican Club of Greater St. Augustine on Monday to discuss the case of former County Commissioner Tom Manuel.
The meeting begins at 6:30 p.m. at the St. Augustine Yacht Club located at 442 Ocean Vista Avenue by the St. Augustine Lighthouse & Museum. Club members and other registered Republicans are welcome to attend.
Shoar, who is also a Republican, is expected to speak at 7:15 p.m. — he told Historic City News that he is looking forward to taking questions from fellow St. Johns County citizens in the audience.
Shoar said that he does not believe that all members of the media accurately portrayed the crime and law enforcement's involvement in it.
At sentencing, Manuel attorneys say that he was cooperating after his arrest and was unfairly deprived the opportunity to earn "sentencing credit" because, they claim, St. Johns County Sheriff David Shoar publicly disclosed the investigation.
Shoar told Historic City News that he "did not leak information about the investigation". Shoar said he was contacted in 2008 by a news reporter who saw federal agents detain Manuel outside of Giovanni's Jacksonville Beach restaurant. After that happened, Shoar says the FBI gave him permission to confirm it.
Share your thoughts with our readers >>