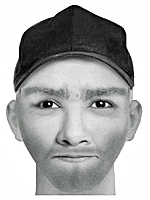 Sheriff's spokesman Chuck Mulligan told Historic City News reporters that a hearing impaired, 20 year-old St. Johns County man is the victim of a shooting that occurred in the Julington Creek area around 9:15 Wednesday night on August 4th.
The victim says he was alone in his vehicle at the rear of Plantation Park when he was startled by a man knocking on his window. The unknown man reportedly began yelling at the victim, however, because of his impairment, he could not understand what was being said.
According to the victim, he lowered his window and the assailant pulled a handgun — pointing it at the victims head. The victim told deputies he grabbed the weapon. The handgun discharged two times — one round hit the victim in the arm. The victim drove to his home and called 911.
The suspect is described as a white male, 5'9"-6'00" and "skinny"; brown hair with possible salt and pepper coloring around the ears and was unshaven at the time of the incident. Further, he was described as wearing a long sleeve black shirt, camouflage ball cap, and possibly had stud earrings in each of his ears.
Anyone with information regarding this incident is asked to contact The St. Johns County Sheriff's Office Robbery Homicide Section at 904-824-8304 or remain anonymous by calling Crime Stoppers at 1-888-277-8477 (TIPS)
Share your thoughts with our readers >>