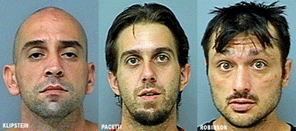 Three men in custody today following arrests in an early morning drive-by shooting incident in southern St. Johns County, according to an announcement received today by Historic City News local reporters.
Deputies say that 30 year-old Jonas Elijah Pacetti fired several rounds from a handgun into a vehicle he thought was occupied by a man with whom he alleges an ongoing dispute. Pacetti reportedly spotted the vehicle and followed it to an address on Isabella Avenue around 4:30 a.m. this morning where and when the incident took place.
Although the vehicle was occupied at the time of the shooting, the intended victim, who owns the car, was not inside. At least three bullets struck the vehicle, however, none of the occupants was injured.
Pacetti was accompanied by 34 year-old Richard Eugene Klipstein of St. Augustine and 33 year-old Steven Michael Robinson.
Klipstein, a convicted felon, aided Pacetti by hiding two firearms in the yard of an area residence as the three men fled the scene by car. Robinson had an outstanding warrant for violation of probation.
The three ruffians were spotted by deputies who performed a traffic stop of their vehicle on Kings Estate Road. All three were taken to the Sheriff's Office for questioning and subsequently arrested.
Pacetti faces charges of shooting into an occupied vehicle and aggravated assault with a firearm — Klipstein has been charged with accessory after the fact and possession of a firearm by a convicted felon. Although Robinson did not take part in the shooting, he was arrested on the violation of probation warrant.
Share your thoughts with our readers >>