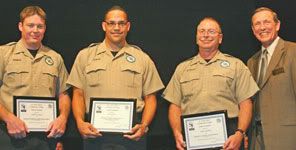 St. Johns River Community College reported to Historic City News local news desk that criminal justice academy cadets were recently recognized during a graduation ceremony.
Cadets representing St. Johns, Clay, Putnam, Duval, Flagler and Marion counties received their certificates of completion for the law enforcement basic recruit program.
The St. Johns County Sheriff's Office, St. Augustine Police Department and Clay County Sheriff's Office opened the ceremony with the "presentation of the colors" followed by the cadets reciting the code of ethics. The guest speaker was Detective Andrew Scott of the Clay County Sheriff's Office.
Special recognition in the basic law enforcement class went to Putnam County resident Matthew Dedmon for "Most Proficient in Firearms" and to Flagler County resident James Seyboldt for "Highest Academic Achiever." The "Medallion Award" went to Clay County resident Erick Earvin.
Law enforcement basic recruit graduates from St. Johns County: Nicholas Agiovlasitis, Tricia Ayers, Albert Blackman V, Theresa Collins, Juan Gonzalez, Bobby Gray, Megan Hall, Jesse Kocorowski, Erin McLerran and Louis Ponce.
Law enforcement basic recruit graduates from Clay County: Dustin Brooks, Peter Divert, Erick Earvin, Brooks Hargrove, James LaGue, Patrick Mobley and Lawrence Soupene.
Law enforcement basic recruit graduates from Putnam County: Jacqueline Abel, Matthew Dedmon, Caleb French, Clifford Geiser, Joshua Maynard and Jacob Register.
Law enforcement basic recruit graduates from Duval County: Armando Aman, Steve Aman, Christopher Behnam, Matthew Black, Michael Cherry, Lizandro DeLeon, Barry Lovett, James Murphy, Alvin Smith III and Kenneth Sparkman.
Law enforcement basic recruit graduates from Flagler County: Shannon Fountain, Jessica Lambert and James Seyboldt.
The ceremony was held at the Thrasher-Horne Center for the Arts. The THCA is owned and operated by SJRCC and is located on the Orange Park campus.
The criminal justice certificate programs provide job-related training to prepare cadets for entry-level employment in their career field. Cadets who complete the certificate program will be eligible to take the state certification exam. The certificates also provide credit hours to be transferred into SJRCC's associate in science degree in criminal justice officer administration. The program is located on the St. Augustine Campus. The next law enforcement basic recruit class is scheduled to begin September 28.
For more information about SJRCC's criminal justice programs, call (904) 808-7490
Share your thoughts with our readers >>