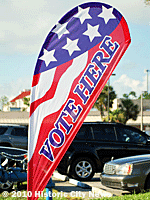 Historic City News noted that many around the state were expecting to unseat incumbents given the "throw the bums out" attitude of tea party groups and other conservatives unhappy with government spending and what they consider liberal social agendas.
But, to their surprise, 82 of 100 county commissioners up for election in Florida won their re-election bids. A total of 74 new commissioners will be sworn in as other contestants retire their seats in January.
In local races this election year, County Commissioner Ron Sanchez was re-elected; as was City Commissioner Nancy Sikes-Kline and Mayor Joe Boles.
Bill Leary was elected to fill the vacant seat on the St. Augustine City Commission left by Don Crichlow — Leary, Crichlow and Boles are all Democrats who have held the seats that were made non-partisan by city charter.
Two Republicans, Don Heine and Michael Gold, were defeated by margins that mirror the minority percentage of Republicans who vote inside the City of St. Augustine. Heine earned about 36% of the vote and Gold earned about 32% in precincts where only about 39% are registered Republican.
At the beach and in other district races:
ST AUGUSTINE BEACH COMMISSION – SEAT 3
1 of 1 Precincts Counted
Hester Longstreet (N/P)
919 37.69%
Undine C. Pawlowski (N/P)
1,519 62.31%
ST AUGUSTINE BEACH COMMISSION – SEAT 5
1 of 1 Precincts Counted
Edward George (N/P)
1,219 49.90%
S. Gary Snodgrass (N/P)
1,224 50.10%
ST AUG-ST JOHNS COUNTY AIRPORT – GRP 3
46 of 46 Precincts Counted
Joseph A. Ciriello (N/P)
28,081 51.31%
Lynda I. Kirker (N/P)
26,645 48.69%
ANASTASIA MOSQ CONT DIST OF SJC – SEAT 4
46 of 46 Precincts Counted
Catherine "Cathy" Brandhorst (N/P)
30,020 55.08%
Gina LeBlanc (N/P)
24,486 44.92%
ST AUG PORT, WATERWAY AND BCH – SEAT 5
24 of 24 Precincts Counted
Jay Bliss (N/P)
9,885 58.49%
Carl Blow (N/P)
7,015 41.51%
Photo credits: © 2010 Historic City News staff photographer
Share your thoughts with our readers >>