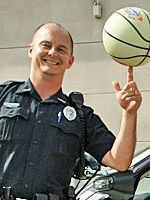 Community Affairs Officer Barbara Stevens reported to Historic City News that Chick-fil-A and the Saint Augustine Police Department are partnering up and inviting children of all ages to come spin basketballs with world record holder "Spin-man".
"Help the St Augustine Police Department enrich the lives of our youth and come join the festivities," Stevens said.
St Augustine Police Officer Michael Kettman, who holds the Guinness World Record for spinning the most basketballs at one time, will be at the Saint Augustine Chick-fil-A, 1752 US Highway 1 South, on Tuesday September 14th between 6:00 p.m. and 8:00 p.m.
Kettman is featured on the cover of Chick-fil-A's Record Sports booklet. He will be demonstrating and teaching his spinning skills to kids. The booklet is one of five children toys provided in Chick-fil-A kids meals.
The Chick-fil-A promotion: "Do try this at Home", is intended to promote fun parent-child interaction and active playtime with friends by challenging children to attempt to set their own records at different activities.
Wayne Efford, the owner of the Chick-fil-A in Saint Augustine, hosts "Kids Night" on Tuesday evenings and offers various children activities and food specials. Efford is collaborating with the police department to give children opportunities to have positive interactions with police officers, which can be beneficial as children grow and are faced with difficult situations.
Share your thoughts with our readers >>