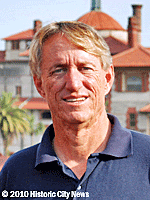 Historic City News local reporters have noticed that the St. Francis House has received a lot of attention lately; not so much concerning the shelter's mission, but rather their limited quarters and the direction being taken with their building plans.
At last night's St. Augustine City Commission meeting, City Manager John Regan, who is a member of the operating board, St. Augustine Society, told commissioners "I don't see St. Francis House moving for three to five years."
City Commissioner Leanna Freeman called for discussion of the homeless challenge during the commission meeting, suggesting "at least a temporary fix" to increase bed space at the shelter with installation of an $80,000 fire sprinkler system.
Lack of fire sprinklers forced St. Francis House to discontinue a pilot program last year that added fifteen beds to the shelter dining room — resulting in hundreds of homeless referrals to other social service agencies.
"We need fifteen beds and need $3 million to get them. That doesn't make sense," Freeman said. She was referring to plans for St. Francis House to build a new shelter on a former fire station site off Old Moultrie Road; but a battle continues with the St. Gerard House near the new site.
Regan said the planned discontinuation of meals at the shelter can help open space.
"Let's look for partnerships with the sheriff and businesses," Mayor Joe Boles concluded.
Photo credits: © 2010 Historic City News staff photographer
Share your thoughts with our readers >>