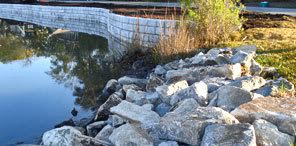 Board member Ali Fulcher with the St. Johns County Audubon Society reported to local reporters at Historic City News the following upcoming May events.
Adopt a water body
In the words of Elvis Presley, a little less talk and a little more action, please. St. Johns Audubon has adopted several contiguous water bodies in St. Augustine through the City of St. Augustine's "Adopt a Water Body" program. The local Audubon Society monitors the water quality and will clean-up trash. The next cleanup is May 21st; contact adoptawaterbody@yahoo.com. This will be a good opportunity for people like Ed Slavin to actually do something to clean-up the City of St. Augustine.
Field Trip
Saturday May 22nd, 2010 at Matanzas National Park
Join Monique Borboen at Matanzas Inlet to view nesting Least Terns. Hopefully, some Wilson's Plovers and chicks will be around. See firsthand the chapters' efforts in protecting these threatened birds. Meet at the ocean side parking lot at Ft Matanzas National Monument at 8:00 a.m. Contact Monique at 904-461-2025
Monthly Meeting
The Chapter Meeting will be held on the fourth Monday, May 24th, from 7:00 p.m. until 9:00 p.m. at the South Ponte Vedra Civic Association Community Center; located on coastal Hwy A1A, 7.3 miles north of the Vilano Beach Bridge.
Zach McKenna, a local naturalist and owner of St. Augustine Eco Tours, will be speaking about his birding experiences on the waters surrounding St. Augustine. Great photos, rare visitors, bird rescues, and interpretive methods will be presented during a casual 1-hour look into the birding paradise we call home.
Photo credits: © 2010 Historic City News photographer Kerry McGuire
Share your thoughts with our readers >>