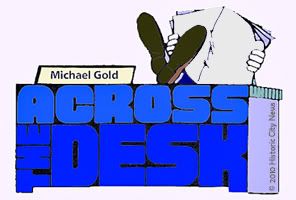 With more attention than ever on St. Johns County finances, we expect county staff to be scrutinizing every expense.
The other side of the coin, of course, is tax — the money our local government operates on.
In an effort to raise money, St. Johns County adopted impact fees to fund infrastructure costs such as roads, schools, public buildings and parks. If you want to build a new home, the theory is that you should pay your fair share of the additional burden on existing infrastructure; and the "impact fee" was the solution.
Five years ago, the county commission went back to the well when new construction was outpacing actual growth and no end was seen to the booming local real estate market. They bumped impact fees to levels never seen before, and now that the market has crashed (Oh, I'm sorry. "Corrected") our impact fees are outstanding — and I don't mean that in a good way.
Impact fees do not apply solely to new home construction. Although impact fees on a new single-family house increased from $2,630 to $6,685 (for one up to 1,800 square feet) or to $9,299 for a larger house, impact fees on a small commercial building (less than 100,000 square feet) jumped from $2,127 per 1,000 square feet to $6,562 per 1,000 square feet. The most dramatic increase was to campgrounds and RV parks, which went from paying $384 per acre to $35,516 per acre.
As qualifying week draws closer for candidates in two county commission races, the questions surrounding how to reconcile our county budget to the available income are returning to the discussion.
Candidates are talking about job creation, but what programs will they employ to achieve it? St. Johns County is in competition with neighboring counties for economic growth, and the new jobs in St. Johns County can only come from new, medium sized companies.
Unfortunately, the stores, restaurants and medical offices which are a medium-to-low impact type of business that commissioners hope to attract, can't afford to invest here because of exorbitant impact fees.
Something has to be done to kick-start this stagnant economy.
Business owners are accustomed to taking reasonable risks; however, they are becoming less willing to accept tax-risks in planning for the future. The risk that high taxes will make investments less profitable, both for businesses and investors, is not tolerable. Businesses that have to pay higher tax rates often have less capital to go around and, as such, cannot expand or improve. Investments that carry heavy tax baggage generally lead to lower dividends for an investor so they simply look for more friendly locations.
Shaking St. Johns County's reputation that we are un-friendly towards new businesses must be our objective. Right or wrong, perception is reality and to medium and small sized business owners who are asked to pay tens of thousands of dollars or more in impact fees that are not charged in nearby counties, their reality is that we don't want their business or the new jobs they can bring.
The county needs to take a stand to boost the economy.
Share your thoughts with our readers >>