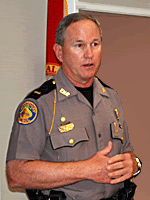 St. Johns County news reporters learned from Florida Highway Patrol spokesman Lieutenant William H. Leeper that a total of four people have suffered serious injuries in two separate automobile accidents in St. Johns County in the last two days — one a 7 year-old child.
In an accident about 8:20 a.m. today on CR-208, a westbound car driven by Crystal Webb, 31, of St. Augustine served into the oncoming lane and struck two eastbound cars before overturning, the Florida Highway Patrol reported.
Both Webb and her passenger, 7 year-old Trevor Franklin of St. Augustine, were reported in serious condition.
The driver of the first car struck, Jimmy Smith, 62, of St. Augustine, and his passenger, Benjamin Nelson, 41, of Hastings, suffered minor injuries, the report said.
In a separate accident, two St. Augustine women suffered serious injuries when their cars collided Thursday afternoon on SR-207.
Jewell Vucinich, 75, was turning onto Rolling Hills about 2 p.m. when she struck the car of Sharon Meyers, 47, according to the Florida Highway Patrol. Meyers' Chevrolet was knocked onto its right side and Vucinich's Cadillac hit a traffic signal pole, crushing the roof.
Both were wearing seat belts, and Vucinich was cited with violation of right of way, the Highway Patrol report said.
Photo credit: © 2010 Historic City News staff photograph
Share your thoughts with our readers >>