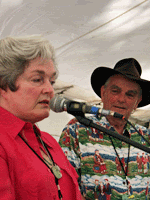 Jane Sims, publicist and performer of Tale Tellers of St. Augustine announced to Historic City News local reporters that their organization will soon commence their thirteenth annual series of storytelling programs featuring seasoned, performing members.
The Tale Tellers of St. Augustine is a non-profit organization of cultural and educational orientation and was founded in 1993 to promote the art and perpetuate the tradition of storytelling.
Dedicated to community enrichment, the guild promotes the art of storytelling by sponsoring its membership in performance.
Guests and new members are invited to attend meetings at 7:00 p.m. on the second Monday of every month — except July.
The next performance presented by Tale Tellers of St. Augustine's THEATER OF THE MIND: STORYTELLING will be September 21st at San Marco Theater in Uptown St. Augustine. San Marco Theatre is located at 28 San Marco Avenue across from Ripley's Believe-It-Or-Not.
"Much ado about Stories" is a local favorite which features a showcase of the group's finest tellers. The performance begins at 7:30 p.m.
General Admission: $10; group rates available. For reservations or further information: 904-829-8711 or 386-446-4909.
Share your thoughts with our readers >>