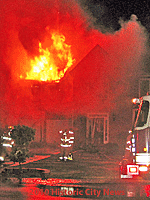 Jeremy Robshaw, Public Education and Information Officer for St. Johns Fire Rescue, warned Historic City News readers that although the annual summer storm season is just beginning, his department is already seeing an increase in structure fires that stem from lightning strikes.
Robshaw said, "Specifically, two fires within the past week have been caused by lightning strikes to residential structures."
According to reports, both fires caused costly damage to the structure and significant emotional stress on the occupants. "While we can't prevent storms and severe weather from occurring," Robshaw says, "there are some steps you can take to prepare your home for this type of weather in hopes of preventing or lessening your chances of experiencing this type of disaster."
Lightning striking your home is a significant and real fire hazard, but proactive measures can help to minimize this type of emergency.
Generally these alarms are delayed because lightning usually strikes the roof of the structure causing a fire on the roof or in the attic space.
Occupants usually hear the thunder, but don't check these areas right away especially in storms occurring at night.
In recent incidents, the homeowners were oblivious to the fire in their home and were alerted by neighbors who saw the smoke and flames or from standard home smoke alarms.
Most homes do not have lightning strike protection or the protection is very limited. Installing a lightning protection system in your home can prevent a large percentage of lightning damage and fires.
Unfortunately, these systems neither attract nor repel lightning strikes; they basically provide a safe path to earth for the electrical charge/energy.
Another option is to install an attic smoke alarm or heat detector that is wired into your home smoke alarms. This will increase your warning time and your opportunity to escape.
Robshaw told Historic City News, "In addition to these tips, checking your house during and after severe storms and alerting emergency personnel quickly if you think your home may have been struck can help to reduce the risk of damaging lightning related fires."
Photo credits: © 2010 Historic City News staff photographer
Share your thoughts with our readers >>