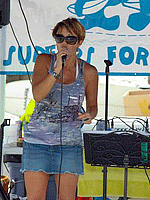 Historic City News has learned that Saturday, September 25th, hundreds of parents will watch their son or daughter charge the surf at St. Augustine Beach just like any typical family, but moments like these are few and far between for these special families.
The nation's oldest city will soon play host to a scene that defies description as close to 200 children on the autism spectrum will surf like superstars and leave forever changed.
Children on the autism spectrum are full of love, resiliency and joy, but the outward expression of emotion is often lacking. But push them into a wave and everything changes in an instant. South Florida-based nonprofit Surfers for Autism has been doing just that for three years and for over 1,200 surfers.
Families attending SFA events deal with countless financial and emotional challenges, and one of the biggest benefits of an SFA event is the cost: none. Children on the autism spectrum are guided into waves by expert instructors as throngs of proud parents and stunned beachgoers play cheerleaders for the day. Events also serve as fundraisers for autism-associated charities, and single-day raffle totals have exceeded $10,000!
"We rely pretty much exclusively on the host-community to provide the services that mean so much to our families, and it is the backbone of the entire operation. Without the resorts, surf shops, restaurants and all of the businesses and groups, it just would not happen," said SFA President Don Ryan.
Attending families are kept hydrated and fed throughout the day, provided discounts at the host resort and neighboring facilities, which gives many a vacation they could otherwise not afford. Families come together to share experiences and come away with a wealth of new information, resources and friends. "It is hard to comprehend if you haven't been to an event. There wasn't anyone judging or staring at my son Stevie, wondering why he was stemming or why he kept watching the sand run through his fingers. Nobody cared and nobody criticized, and I cannot express my gratitude for the day that you provided for us," said Steve Cassell.
SFA is an all volunteer organization, and attending families are continually amazed by the impact these selfless people have on their child. "I just can't thank everyone enough for Saturday. My son normally doesn't talk to anyone he doesn't know and can't stand to be touched, but he was chatting up a storm with his surf team.
He was giving high-fives and hugs and even taking pictures, all of the volunteers are amazing," said Melissa Scott.
Transformation is the norm, and Rod Feiner's son Jason is now a full-fledged surfer. "All he wants to do is go surfing again, and he wrote a story about surfing with his reading tutor the following Monday. Awesome and Thanks Guys!! You all rock," said Feiner.
Debates over causation and cures continue, but after being on the beach for a SFA event, one thing becomes abundantly clear: these children respond to the ocean! SFA raises funds for autism-associated charities and single-day event totals are continually on the rise.
After three years and several events spanning the state, the grassroots organization has registered over 1,200 surfers! Sadly, the group's mission takes on added importance in light of new developments. Prior research indicated that 1 in 150 children have Autism Spectrum Disorder, but a recent study published in the journal Pediatrics suggests that nearly 1 in 100 children have ASD.
For information about SFA, visit www.surfersforautism.org.
Share your thoughts with our readers >>