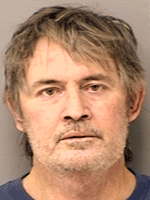 St. Johns County Sheriff's Office robbery detectives have Kirk Lee Davenport in custody this evening in connection with two armed robberies reported to Historic City News earlier today.
The first robbery occurred at St. Johns Pharmacy in the 3100 block of US-1 South shortly before 3:00 p.m. A short time later, the second robbery was reported at Moultrie Pharmacy in the 3600 block of US-1 South.
In both reports, the robber was said to have fled the scene in a red Ford Explorer. After speaking with witnesses, investigators believe that the same man committed both crimes.
Witnesses at both St. Johns and Moultrie pharmacies stated that the robber displayed a handgun and demanded narcotics. The pharmacists turned over an undisclosed number of pills to the robber who escaped without injuring his victims.
Law enforcement was able to locate a vehicle matching the getaway car at Pelican Inlet Condominium, 7100 block of A1A South, and, 52 year-old Davenport, who matches the suspect's description.
Sheriff's spokesman Kevin Kelshaw told Historic City News crime patrol reporters that Davenport, who lives at 1210 Cherry Tree Road in St Augustine, is being held in the St. Johns County Detention Facility, without bond, pending a first appearance hearing before a judge tomorrow.
Share your thoughts with our readers >>