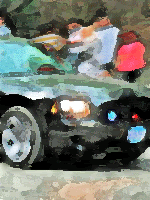 The St. Johns County Sheriff's Office forwarded two reports to Historic City News identifying a subject who has allegedly been impersonating a law enforcement officer.
The first report occurred in the area of Vilano Road at Vilano Beach and the second was in the area of L'Atrium Circle in Ponte Vedra Beach.
The first victim reported that she became lost in the area of Vilano Beach at about 11:00 p.m., when a vehicle with a blue flashing light got behind her and, thinking it was a police car, she pulled over.
According to the report, a man exited the presumed police car and approached the victim's vehicle. When the man inquired about the victim's plans for the evening, the woman became frightened and began to drive away. The suspect reached into the victim's car through the window and grabbed her sweater and hair.
The victim was able to flee the area and called the Sheriff's Office immediately; describing the suspect as a white man with short hair, wearing street clothes and driving a small, dark colored vehicle.
In a separate incident, a second subject reported seeing a small, black, unmarked vehicle with blue lights and a siren activated in the area of L'Atrium Circle, in Ponte Vedra Beach.
At the time of the sighting, there were no reports of anyone being pulled over — just a suspicious vehicle.
Media Relations Officer Kevin Kelshaw told Historic City News that it is not known if these two incidents are related, however, they are both still under investigation.
The Sheriff's Office would like to remind the public that there are multiple law enforcement jurisdictions within St. Johns County — each operating under their own sets of policies.
If an unmarked car with blue lights signals for you to pull over, continue to drive safely and cautiously to a populated, well lit area and then pull over.
You can ask to see the officer's identification through a partially opened window and should report anything suspicious to your local law enforcement agency.
Share your thoughts with our readers >>