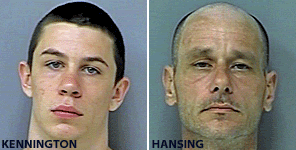 The local St. Augustine news desk has learned that Friday afternoon, Police Sergeant Richard Warner responded to the Sunoco Gas Station located on US-1 South to investigate a suspicious vehicle and its occupants.
When the call came in, shortly after 2:00 p.m., officers were informed that the three white male occupants of the vehicle were possibly involved in selling narcotics.
Upon arrival, Sergeant Warner observed a car pulling out of the Sunoco parking lot. The car matched the description of the suspicious vehicle. Warner stopped the vehicle at 84 South Dixie Highway.
The driver, identified as 36 year-old Justin Mikel Hansing whose last known address was 3480 CR 214 in Elkton, jumped out of the vehicle and stated that he did not have a valid driver's license and he knew he should not be driving.
A computer check verified that Hansing's license was suspended and that he is a habitual traffic offender. He was taken into custody, searched, and then gave Sergeant Warner consent to search his vehicle.
Warner discovered a clear sandwich bag containing 9 "nickel bags" of marijuana under the right rear passenger' s seat. A field test was done to confirm that the substance was, in fact, marijuana.
The passenger, 19 year-old Dustin Andrew Lee Kennington, who reported his address as 3891 Osprey Circle, Apt C, in St. Augustine, stated the marijuana belonged to him.
Kennington was taken into custody and charged with possession of marijuana with the intent to distribute within a 1000 feet of a convenience business. Hansing was charged with habitual Driving While License Suspended or Revoked.
Community Affairs Officer Barbara Clifford of the St. Augustine Police Department reports that Kennington remains in custody in lieu of a $1500.00 bond, however, Hansing was released the following day after posting a $1,000.00 appearance bond.
Share your thoughts with our readers >>