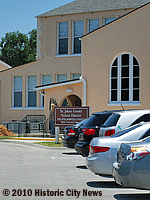 With the start of a new school year, a local citizen group, Academic Education Coalition, gets back to work "to provide a forum for individuals, agencies, and organizations to collaborate and share for the purpose of strengthening our school system in meeting the academic and education needs of ALL students."
The coalition will meet Thursday 3:30 p.m. until 5:00 p.m. at the Fullerwood Training Center, the former Fullerwood School on Hildreth Drive, in the first of bimonthly meetings throughout the school year.
According to an article that appeared in a City of St. Augustine publication, the coalition grew out of "A People United", organized by Pastor Ron Rawls of St Paul's AME Church. The purpose of the organization is to "create a hub into which community organizations feed information on services they provide – a clearing house for community service."
For schools, Superintendent Joe Joyner said, "More adults are needed in the schools as clerks, teacher aids, instructional coaches, and mentors."
Coalition Facilitator Margaret Nicholson urges "all individuals and agencies interested in the collaborative effort" to attend. Nicholson can be reached at 904-797-6022.
Photo credits: © 2010 Historic City News staff photographer
Share your thoughts with our readers >>